A sector-driven initiative to provide not-for-profit organisations and their partners with a project management platform in order to achieve social impact together.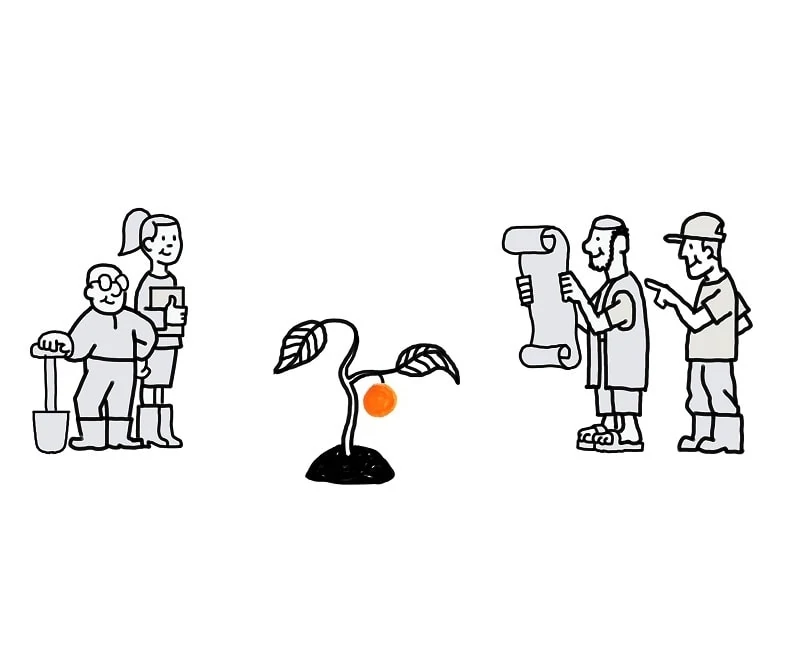 For your Organisation
Achieve impact by efficient management of your projects, programmes, grants, available resources, budgets and results. If you prefer valuable information, rather than more data.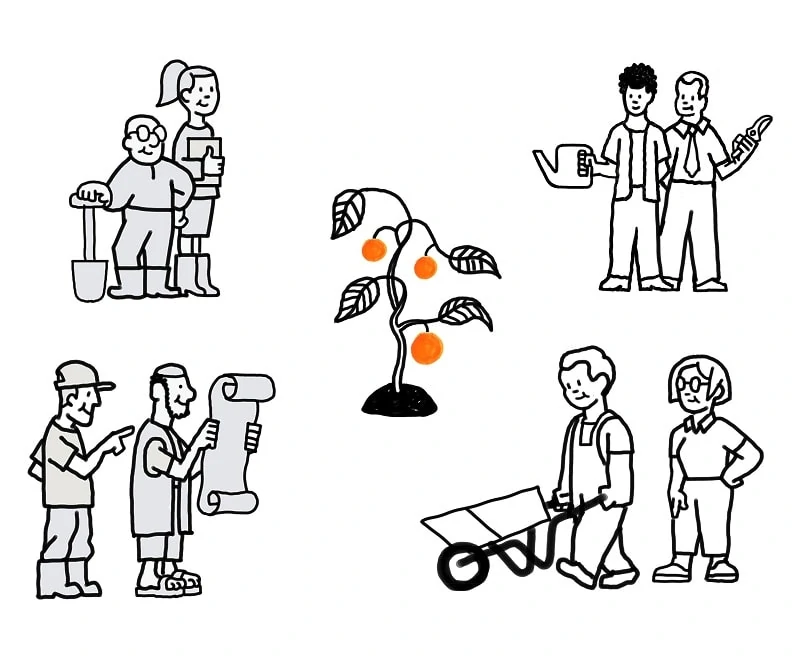 For your Co-operation with Partners
Achieve impact by collaborating with (local) partners who share responsibility for project objectives. If you prefer to empower your partners, rather than limiting them...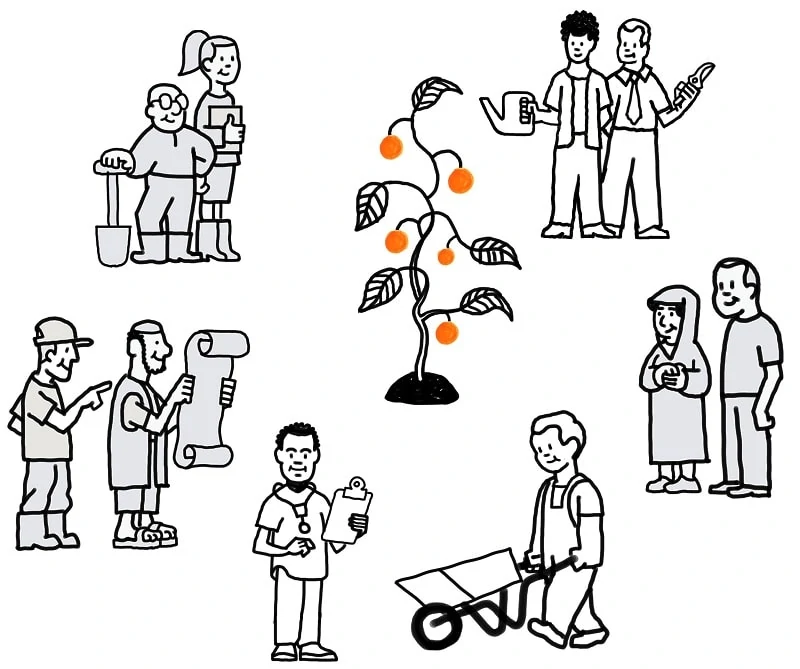 For your Collaboration within Alliances
Achieve impact by participating in international networks. If you want to focus on shared objectives, without sacrificing strict data security...
ProjectConnect is designed for a project-based approach in the not-for-profit sector. It aims to support the not-for-profit organisations in achieving their mission. It provides an effective ICT solution to improve the performance of your teams, projects and programmes, supporting everything from grant management to operations with local partners in the field and reporting to donors.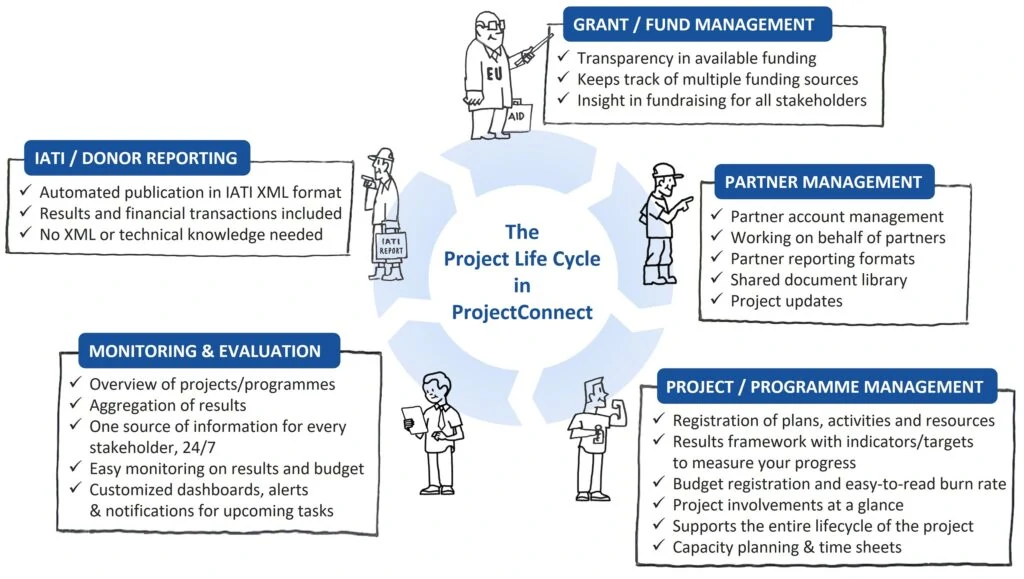 ProjectConnect Foundational Course
The first basic ProjectConnect training is completed! Three ProjectConnect users had the scoop. Thanks to Anna Piechota and Eva Kranendonk. Also interested in a basic training? Get in touch with us! #techforgood #ngo
WeConnect teambuilding – January 19th
On Jan. 19, the ProjectConnect foundation held a successful team-building day in Oosterwolde called "WeConnect." The event aimed to get to know and connect the organization's team of developers, consultants and other employees better. The day began with several team-building activities, where participants worked together in small groups to complete various tasks. This was followed…
ProjectConnect as NGO Sector Initiative
Woord en Daad Foundation director, Rina Molenaar, explains their involvement in ProjectConnect. NGOs working and learning together, and co-creating ProjectConnect as the enabler to achieve organizations' objectives.
ProjectConnect Introduction
ProjectConnect was founded around the principle that projects should be at the heart of the system, while organizations participate in these projects.
How ProjectConnect facilitates Digital Inclusion
Simavi is using ProjectConnect to work together with local partners. It structures the administrative part of the project and takes away inefficiencies. ProjectConnect allows all stakeholders to learn and grow together, focusing on achieving impact.
ProjectConnect to drive System Change
Woord en Daad Foundation was one of the early adopters of ProjectConnect. Woord en Daad shares the vision of a data-driven strategy and works in co-creation with other NGOs to deliver substantial benefits to the sector.
Reporting to IATI
Simavi is using ProjectConnect for all people involved in their projects. This increases insight and transparency across the stakeholders. Looking at one single source of truth prevents misunderstandings and inefficiencies. Reporting to IATI is done with just a few mouse clicks.
ProjectConnect for full Project Life Cycle (1)
Whether your starting point for projects is in the Theory of Change or in available funds, ProjectConnect support setting up projects, results, baselines, targets and indicators. ProjectConnect even suggest matches between projects needing funding and available funds.
ProjectConnect for full Project Life Cycle (2)
ProjectConnect supports all stages in the project life cycle. Specifically addressing the needs for NGOs. Both results data (outcome, output, activities) as well as financial data, both budgeted and actual. Whether it be assessing partners, monitoring progress, reporting to back donors.
ProjectConnect to monitor project progress
Project stakeholders need information about project progress, both regarding results as well as financial data. ProjectConnect visually reports progress and delivers it to stakeholders in a dashboard.
Reporting possibilities from ProjectConnect
Reporting to back donors, government and IATI? ProjectConnect allows the same set of data to be reported in various formats. ProjectConnect support IATI publication since the introduction of IATA as a standard. We have been there...
As a team and community we practice good stewardship and are passionate about what we do. In this context we develop and improve constantly. Our core values guide the way we co-operate and interact with each other.